How to cook Duck Magret with Chef Rich Wilson of the Beckta Group
Chef Rich Wilson of the Beckta Group and Kitchen Inspiration
"A Gold Medal Plate for a Gold Medal Kitchen!" Is a comment you'll hear Gemstone's President, Josh Zaret, proclaim as Chef Rich Wilson demonstrates how to prepare his signature dish, Duck Magret, in a new Gemstone kitchen in a Peridot home. (Peridot homes are for sale now in Ottawa!)
Chef Rich Wilson perfected his Duck Magret with maitake mushroom gyoza, Brussels sprout petals and miso squash purée while preparing for Gold Medal Plates, a competition that celebrates "Canadian Excellence" in cuisine. When Gemstone began looking for a unique and creative way to showcase their newly built homes, designed by award-winning Hobin Architecture, they noted everyone commented on the kitchen. The open concept kitchens on the main floor of Peridot homes were designed to be bright, and well-scaled for entertaining and family life. Because all Peridot homes are nestled up against protected greenspace in the heart of Ottawa, the natural light, scenery and energy are unmatched and are guaranteed to stay that way. Gemstone thought who better to help bring this space to life than Chef Rich Wilson of the Beckta Group, demonstrating what life would be like living in a Peridot home.
New Homes That Balance Work and Family, Function and Freedom
The pandemic made families, couples and professionals take a closer look at their homes and after spending an unprecedented amount of time at home many are making a move. Many traditional homes simply aren't made to comfortably accommodate everything we've been forced to do at home since COVID hit. A home, once chosen because it was close to "the office", isn't quite as appealing when we've largely shifted to work from home, and now you have to drive to find green space and you keep bumping into each other in the kitchen. The housing market reflects this mass movement as everyone shuffles to find a new fit, but who wants the stress of bidding wars and inevitable renovations?
Peridot is a micro-community built for balance. A balance of city living but surrounded by green space. A balance of community and neighbourliness alongside room for privacy and individuality. A balance of flexible spaces that can shift and serve different purposes from day to night, as your family grows and life changes. A balance of modern contemporary form and function with classic and luxurious details to soothe even the most hurried soul. This all sounds fantastic, but what does that mean?
Chef Rich is used to working in a professional kitchen, cooking is his craft but why should you sacrifice quality if you do most of your cooking at home? This is just one example but the kitchen truly is the heart of the home and we wanted to show you how Gemstone brings balance to the home, especially in our Peridot community.
New Home Kitchen Features
The Duck Magret, as Chef Rich prepares it, is not a simple dish. It takes ample counter space to prepare, he talks about how the five-burner gas stovetop is "the best" when cooking at home and allows him to prepare all elements of the dish simultaneously, and nothing is cold by the time he's ready to serve. He talks about how it's nice that he can cook such a complex dish but that there is still plenty of room for others to join him, chat and visit and "enjoy a glass of wine" while he cooks. You could just as easily picture a child doing homework at the island while he prepared the meal or friends relaxing, lounging in dining chairs or on a sofa by the window.
The open concept main floor, with airy stairs both up and down, elegantly ties the space together while allowing for quiet nooks, purposeful spaces and the balance a family needs to live together in harmony. We see this space work its magic as Josh is drawn to the kitchen, beckoned by the aromas of the Duck Magret. A great kitchen brings people together in the best way possible!
A Dish Fit To Celebrate Your New Home
We'd like to extend a huge thank you to Chef Rich Wilson of the Beckta Group for sharing his signature dish with us and helping us demonstrate the beauty and elegance of a Peridot kitchen in a Peridot home. We hope you find it is the perfect dish to help celebrate your new kitchen someday soon!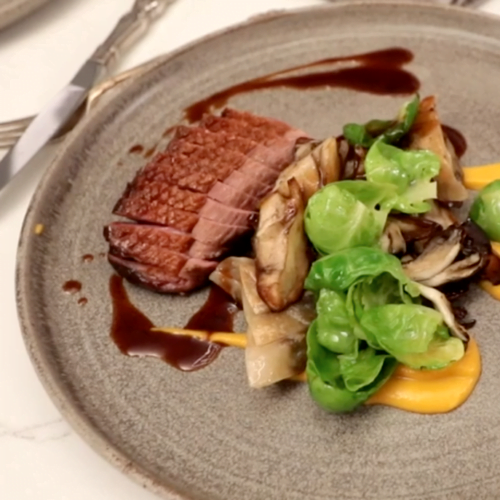 Duck Magret by Chef Rich Wilson
Chef Rich Wilson of the Beckta Group here in Ottawa, perfected his Duck Magret with maitake mushroom gyoza, Brussels sprout petals and miso squash purée, while preparing for Gold Medal Plates, a competition that celebrates "Canadian Excellence" in cuisine. We felt it was the perfect dish to help showcase what life could be like living in a Peridot home and cooking in a Peridot kitchen!
Ingredients
Duck Breast
1/2

Breast

Rougié Moulard Duck Breast (Magret)

- Chef Rich recommends 1/2 duck breast per person

Salt & Pepper
Mushroom Gyoza Dough
2

cups

all-purpose flour

2/3

cup

water

+ 2 tbsp

1/2

tsp

kosher salt
Mushroom Gyoza Filling
6

cups

chopped mushrooms

6

cloves

garlic, minced

1/2

cup

leeks

3

tsp

soy sauce

2

tbs

toasted sesame oil

2

tbs

sambal

1/2

ts

umami powder

Salt & Pepper
Miso Squash Purée
1

cup

unsaltedbutter

1

medium

butternut squash, cubed

2

cloves

garlic, whole

2

shallots, large diced

500

ml

35% cream

125

ml

shiro miso
Demi Glaze
4

Litres

Demi

1

cup

white wine

1

cup

white wine vinegar

2

onions

1

large carrot

1

celery root

1/2

tsp

caynne

2

tsp

black bean garlic sauce

2

tbs

butter
Other
6

Brussles sprouts with petals removed

8

oz

maitake mushroom, broken into bite-sized pieces

1/4

cup

mushroom stock

2

tbs

butter
Instructions
Gyoza Dough
Put the flour into the bowl of a stand mixer. Combine water and salt in a small saucepan. Bring to a boil over medium heat. Once boiling, turn off the heat. Carefully pour the water into the bowl with the flour.

Using a dough hook, mix dough on low speed for 2 minutes. Turn speed to medium and continue to mix for 8 min.

Transfer dough to countertop and form into a ball. Wrap the dough in plastic wrap and let stand at room temperature for 30 min.

Prepare the stand mixer with a flat pasta rolling attachment.

Remove the plastic and cut the dough in half. Working on a lightly floured surface, press each half flat. Ensure the dough is coated with a dusting of flour. Turn mixer on and pass dough through the roller on setting 1. Continue to pass the dough through, moving the setting to 2, then 3, then 4.

Once the dough is rolled out, use a 3" circle cutter cut the dough into circles. Form the excess dough back into a ball and repeat the rolling process. Cut more circles, separating them with a dusting of flour so they don't stick. Continue until you have no dough left.

Repeat this process with the other half of dough.
Mushroom Gyoza Filling
Sauté mushrooms, leeks & garlic together on low heat in 2 tbs of sesame oil untilthe mushrooms have dried and are no longer producing steam

Add soya sauce, sambal, umami, salt and pepper and mix until mixed evenly and remove from heat.

Spread the wrappers out and brush cold water around the edges of each one. Mound a little of the mushroom filling into the center of each wrapper, roughly a teaspoon or two. Fold each wrapper in half so that the edges of the dough meet. Take one edge and fold small sections of the dough to crimp the edges, pressing the dough into the other edge so that it sticks and forms a dumpling. Repeat with all of the wrappers.
Miso Squash Purée
In a small pot sauté squash, shallot, garlic in butter

Once shallots are translucent add cream, turn heat to low and cover.

Once the squash is cooked thoroughly, purée on low speed first, then work your wayto high speed.
Demi Glaze
Sweat onions, celeriac, carrots, cayenne in 2 tbs butter

Once they have begun to brown deglaze with white wine

Reduce wine by ½ and add demi glaze. Simmer for 20-30 minutes

Stir in Black Bean Garlic sauce
Duck & Plating
With a small knife, create a 1 cm crosshatch pattern on the duck breast

Begin to render your duck, fat side down on medium/low heat in a cast iron until golden brown. This will take about 10 minutes.

Heat your pureé on low heat, stir occasionally

Heat your demi glaze on low heat

Sear your gyoza in 2 tbs of oil, once they are caramelized on the bottom, add 1/4 cup of mushroom stock, 2 tbs butter, Brussels sprouts petals and cover to allow to steam. About 2 minutes, Season with salt & pepper

Flip your duck over to sear the flesh side for 1 minute

Rest your duck breast fat side up for 5 minutes

While your duck is resting, turn your cast iron up to medium/high heat cook your maitake mushrooms in the duck fat for about 5 minutes until golden brown