Should you get a smart lock for your front door?
Having to remember to grab your keys is for many a daily annoyance, it's hard (and delightful) to imagine it could be on the way out.
Since the invention of the lock and key, the design has held strong, involving simply a carved piece of brass, silver or nickel, and a series of pins to secure all of our precious possessions. Many household staples have been overhauled in recent years to bring them into the new world of smart devices, with great benefit to the end-user. Programmable washers and dryers so your dress shirt is freshly dried and unwrinkled the second you need it, vacuums that will clean that stray pet hair while you get ready for your day, and so many more innovations. Front-door locks joined this new generation of devices early on and have had a reasonable amount of time to mature, so where is the front-door lock in its evolution now?
Why Fix What's Not Broken?
Sure, keys and locks have their flaws, action movie scenes showing them being thwarted in seconds are common, but they've done the job for a hundred years – do we really need a fix? If we frame the new generation of smart lock as an upgrade instead of a fix, the answer is yes, there is room for improvement. Smart Locks mean you have one less thing to worry about when leaving the house or office and offer a wide range of benefits. On vacation but have a pet sitter coming by to feed your pet? Program a schedule for your door to unlock and lock for them without ever having to give them a spare key. Did you tell your neighbour they could borrow your projector for a movie night, but you forgot to set it out for them? Quickly open an app and with the touch of a finger, let them into your house without having to delay or make excuses.
Aside from locking and unlocking with ease, the benefits go far beyond that. With many pin pad style smart lock models, you can assign new codes to each individual who needs access to your place, and you will have a record of who has accessed the space and when.  You can also revoke access at any time so that one-time-access that the plumber needs won't be a liability in the future. The hotel industry has fully embraced smart lock technology, with hotel patrons joining in with little to no complaint, and Airbnb style rentals are also finding great benefit in making the switch. The convenience, peace of mind, and savings from not having to reproduce keys and change locks when keys go missing are too great to ignore, and many Ottawa homes are being outfitted with these smart locks at the request of new homeowners.
Consider this Before you Buy a Smart Lock
Before you commit to one lock, make sure you've taken into account these considerations:
Age and functionality of your door. If your door requires a high amount of strength to turn the bolt, or you have to lean on the door to align the bolt with its slot, you're going to need to address those issues before taking the plunge into the smart lock market. Even the strongest smart locks on the market can struggle with a finicky locking environment.
Do you like your current door fixtures? If your doorknob or bolt is an aesthetic gem and you're not excited to completely swap it out with a new system, you can pick up a smart lock that allows you to keep your current fixture. Some of these will attach to the inside of your door on the deadbolt and mechanically turn your current lock, and some replace only the actual locking mechanism of your current deadbolt while leaving the rest in place. With these types, you still have the option to have a spare key for unforeseen emergencies as well.
How smart do you want it? You have the freedom here to choose whether you simply want a lock that opens with a code, or if you want full integration into your smart home, with phone accessible applications, and programmable options. All the levels of intelligence in between that are available in various models as well, including ones that are Bluetooth-only, working with an app on your phone, but not integrating into your smart home network. The choice is yours.
If you want it smart, what do you want it to integrate with? If you're jumping into smart locks, there's a decent chance you already have a system like Wink Hub 2, Google Home, Nest, Apple TV, Samsung SmartThings or Amazon Alexa in your house. If this is the case, you'll want to ensure your new lock is compatible with your current set-up. Many of these locks come standard with Bluetooth connectivity, so they will work with your phone, and smart home integration is an added option on top of that.
You never want to think about locking your door again. If this is you, you'll want to look for a lock that enables geofencing. With geofencing, you set a range around your home and any time the lock detects that your phone has left that zone, the deadbolt is locked. Conversely, as soon as your phone returns to the zone the lock is opened for you.
Do you have visitors who will need inside? Most smart locks have the capability to allow you to add temporary users who can be deleted later. Some models even allow a timeline to be attached to the code, meaning if the cable guy said he was coming between 1 pm and 3 pm, the code will only work between those hours. If you have a rental suite or vacation rental this is a great feature to look for.
What if the power goes out or you lose your phone? These are real concerns and can happen to anyone. You don't want to be locked out of your own home because of a hurried exit from work, or a local power outage. Decide what risk tolerance you have and keep that in mind when shopping for your lock. Some locks will still allow you to have a physical key, some have a numerical keypad as a backup, some even have voice command options. Regarding a power outage, a physical key would be handy, but there are even locks that have external posts that a 9-volt battery could connect to and breathe life back into them long enough to open your door, like Real Living locks. You can also consider if you're simply willing to wait for a spouse or housemate to come home, or wait out a power outage somewhere else.
Can it be hacked? The unfortunate truth is that anything connected to the world wide web has the potential to be accessed by unauthorized parties. Many of these locks have a level of encryption built-in, and you can protect yourself by setting up strong passwords, running updates when they are available, and practicing good online hygiene, as you would do with all your other devices.
So Which Smart Lock is the Best?
Now that you've considered what the characteristics of your ideal lock would be, you're in a better place to decide which one is right for you. Here are a few locks that stand out, though the market is much larger than this. You can take a look at this review page from TechHive that does a great job outlining some worthwhile considerations if you're looking for more options, and if this smart lock purchase is part of a larger renovation or update in your home, you might want to take a look at this article: Four Must-Do's Before Renovating Your Home.
Best Retrofit Smart Lock The vote is pretty unanimous that the best smart lock you can get without having to update your deadbolt is the August Smart Lock Pro. This lock is easy to install, going right over the top of your existing deadbolt, and has internal wi-fi meaning connecting to your device is a breeze. This lock even syncs to your Apple Watch so, at times when your phone isn't with you, like on a run, you can still enjoy the security of knowing your home is safely locked up. In addition to Apple, it also works with Google Assitant, and Alexa. This lock also allows for multiple users and keep a history of who has accessed it and clocks in at around $200. If you really don't like the idea of seeing a device on your door, there is another option, that is entirely encased within the key portal and cylinder space of your deadbolt called the Level Bolt.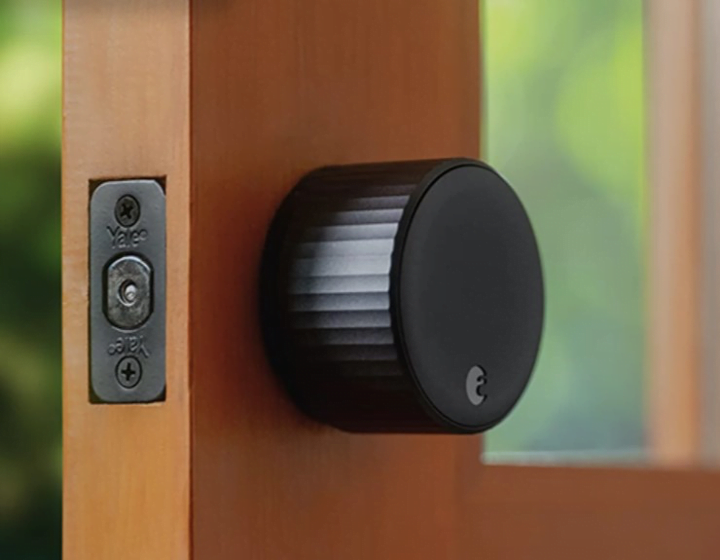 Most Affordable Smart Lock The Wyze Lock is a light $100 and is also a retrofit option, fitting over your existing deadbolt. It's simple to install and comes with a Zigbee hub that will allow your lock to access your Wi-Fi network. It can connect to your Alexa account for voice control and recognizes when your phone is nearby to allow for automated locking and unlocking. The Bluetooth feature means if there's a power outage you can still open your door since your phone can talk directly to your Wyze Lock. It also allows for multiple users and has encryption and 2-factor authentication for security.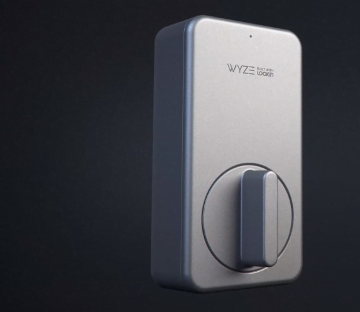 Best WiFi Connected Smart Lock If you're looking for security, ease of use and functionality options, the Schlage Encode Smart WiFi Deadbolt is your best bet. A little more expensive at around $300, it brings a lot to the table for that price tag. Built-in wifi means no extra hub to install, syncs with Alexa and Google Assistant for voice control, and you can give access to your house from anywhere, including to your Amazon delivery driver, since it is Amazon Key compatible. It has a built-in tamper alarm, and up to 100 codes can be supplied for this lock, making it great for higher traffic doors. It also comes in 4 colour options so you can pick the one that matches your aesthetic best.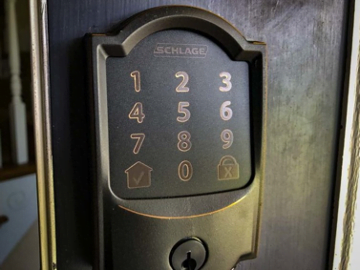 Best Bluetooth Smart Lock For those who don't want to have their deadbolt connected to wifi, or wifi isn't available, the Kwikset Aura is a great option. You have full control over your lock through your phone whenever you are within 100ft of your door. It has a keypad, so you can assign codes permanently or temporarily – up to 250 of them. The codes are programmable for timed access, one-day access, or a date range, so there's lots of options, and they're all traceable on the app so you know who has entered and when. There is still a keyhole as well, so you can hold on to your traditional key if you choose to. The battery pack is accessible and has a low battery alert, so you know when it's time to swap them out.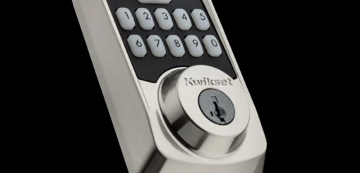 There are plenty of choices in the smart lock category, and since this is a newer technology, new models and upgrades are coming out regularly. This PCMag Report has a breakdown of best smart lock for a huge amount of categories if your needs are more specific, and if you're not certain the right one for you exists just yet, wait half a year and your options will likely have increased.